Product Description
Drum Placement
Horizontal Boiler
Burning Style
Chamber Combustion Boiler
Boiler Power Supply
220/240/380V It Can Be Customized
Boiler Coulor
It Can Be Customized
Supplier Scope
We Supply with Full Set Boiler System
Boiler Efficiency
About 15year to 20year
Boiler Installation
Technician Oversea Available
Transport Package
in Export Use Wooden Box
Drum Placement
Horizontal Boiler
Burning Style
Chamber Combustion Boiler
Boiler Power Supply
220/240/380V It Can Be Customized
Boiler Coulor
It Can Be Customized
Supplier Scope
We Supply with Full Set Boiler System
Boiler Efficiency
About 15year to 20year
Boiler Installation
Technician Oversea Available
Transport Package
in Export Use Wooden Box
Industrial Automatically Hot
oil
Boiler Gas Fired Thermal Oil Heater/Boiler
I.Genaral introduction
YY (Q) W series thermal oil boiler is a kind of boiler which uses gas(oil) as fuel ,thermic oil as medium, hot oil circulation pump to make the medium to forced
circulation, deliver the heat to heating need equipments and then  go back to the heating furnace.It can obtain a high  operating temperature at  low pressure and
can do high-precision control on the medium.
This series boiler has compact structure. The heating area is constituted by close-knit coil pipes from inside to outside.Inside coil pipes are the radiation heating surface, and the outer surface of inside coil pipes and outside coil pipes form a  convection heating surface.Fuel burn  fully in the combustion chamber, the  radiation heating surface absorb most heat, and then high temperature flue gas goes into convection heating surface to exchange heat, then go into the air preheater (or waste heat boiler) to heat the required (or water).at last,  the low temperature flue gas discharges to the aerosphere through the chimney.
II.Boiler features
1).Three pass coil pipes design, thermal oil goes through the coil pipes and fire in the furnace(fire is surrounded by oil), which makes the boiler has big radiation heating area, highly improves the boiler efficiency and preventing deformation of boiler shell in high temperature heating.
2).Unique heating surface of the back of boiler--smoke turning around room is wet back design(smoke turning around room is surrounded with oil), which avoids dry heating of tube sheets and reduce heat loss.
3).Unique coil integration process, no gaps between coils, then Smoke will not be chaotic and short-circulate. Smoke flows long and smooth, makes the boilers heating enough and efficiency high.
4). Energy saving device design(air preheater, waste heater boiler or economizer is designed behind the boiler), which makes the exhaust temperature low and improves 10% of boiler efficiency.
5).Double-layer aluminum silicate insulation, makes the temperature of shell surface not more than 40ºC,which is energy saving and efficient.
6).Dislocation double sealing slot design,secondary leakage prevention, which seals very tight and avoid leakage.
7).Fast-setting and high-strength refractory building materials, strong solidification, long life cycle, and not easy to shake off.
8).Integrated wiring device(Junction box and wire groove), so that wire-controlled connection is more convenient, maintenance is more simple and more beautiful after installation.
9).Outputting oil tank external design,slow down the rate of carbonization of fat and avoid accidents.
10).Roundness treatment for edges and corners of packing panels, which can prevent incidental injury accident in maintenance.
11).Double-door design and the smoke is removable, which are convenient for maintenance.
12).Professional and beautiful industrial stainless steel packaging design.
13).Independent research and development PLC control board, matching ability is strong.10-inch touch screen,easy, safe and reliable operation; Burner can automatically ignite, flameout, switch small fire and big fire;Exceed 20% configuration for burner, ensures enough output, reduce equipment fatigue and extend equipment life;  high and low pressure protection;  leakage protection.
14).High quality raw material supply---China famous big steel plant provide the raw material.
15).60 years boiler factory, mature technical and production team , which ensures the quality mature and stable.
III.Boiler details
IV.Technical datasheet(For limited place, the following is only part of datasheet. If need more, pls contact us for details)
V.Typical projects:
VI.Packaging & Shipping
Yuand
Industrial Automatically Hot Oil Boiler Gas Fired Thermal Oil Heater/Boiler
I.Genaral introduction
YY (Q) W series thermal oil boiler is a kind of boiler which uses gas(oil) as fuel ,thermic oil as medium, hot oil circulation pump to make the medium to forced 
circulation, deliver the heat to heating need equipments and then  go back to the heating furnace.It can obtain a high  operating temperature at  low pressure and
 can do high-precision control on the medium.
This series boiler has compact structure. The heating area is constituted by close-knit coil pipes from inside to outside.Inside coil pipes are the radiation heating surface, and the outer surface of inside coil pipes and outside coil pipes form a  convection heating surface.Fuel burn  fully in the combustion chamber, the  radiation heating surface absorb most heat, and then high temperature flue gas goes into convection heating surface to exchange heat, then go into the air preheater (or waste heat boiler) to heat the required (or water).at last,  the low temperature flue gas discharges to the aerosphere through the chimney.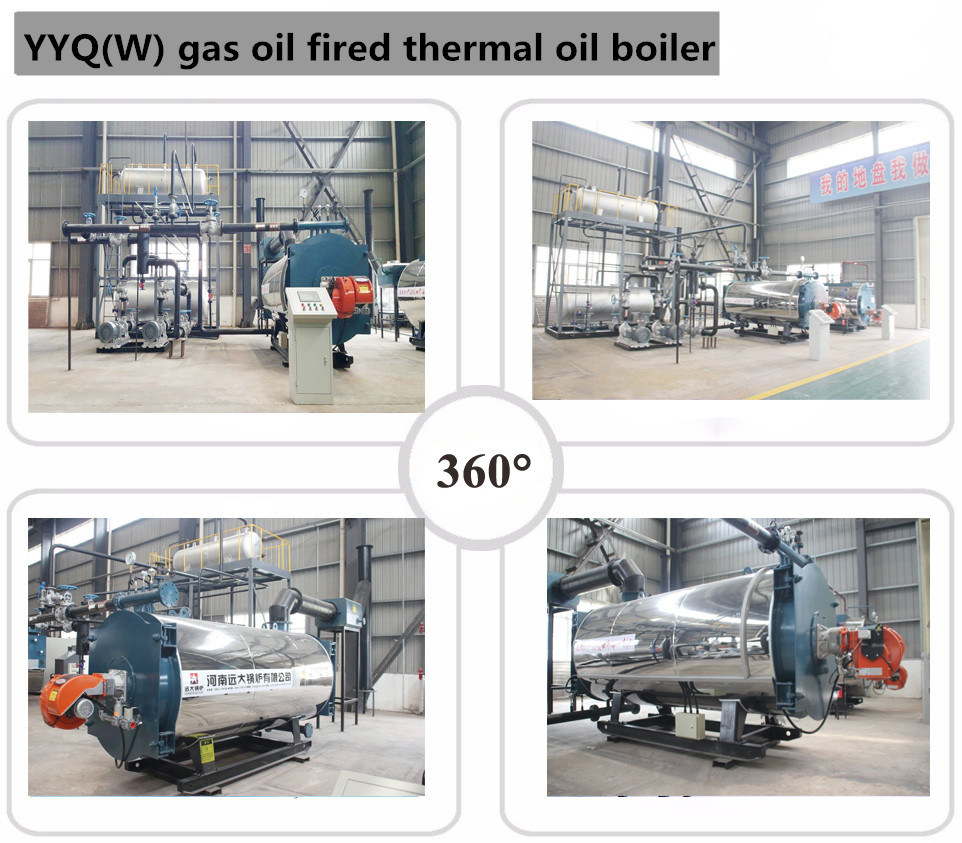 II.Boiler features
1).Three pass coil pipes design, thermal oil goes through the coil pipes and fire in the furnace(fire is surrounded by oil), which makes the boiler has big radiation heating area, highly improves the boiler efficiency and preventing deformation of boiler shell in high temperature heating.
2).Unique heating surface of the back of boiler--smoke turning around room is wet back design(smoke turning around room is surrounded with oil), which avoids dry heating of tube sheets and reduce heat loss. 
3).Unique coil integration process, no gaps between coils, then Smoke will not be chaotic and short-circulate. Smoke flows long and smooth, makes the boilers heating enough and efficiency high.
4). Energy saving device design(air preheater, waste heater boiler or economizer is designed behind the boiler), which makes the exhaust temperature low and improves 10% of boiler efficiency.
5).Double-layer aluminum silicate insulation, makes the temperature of shell surface not more than 40ºC,which is energy saving and efficient. 
6).Dislocation double sealing slot design,secondary leakage prevention, which seals very tight and avoid leakage.
7).Fast-setting and high-strength refractory building materials, strong solidification, long life cycle, and not easy to shake off. 
8).Integrated wiring device(Junction box and wire groove), so that wire-controlled connection is more convenient, maintenance is more simple and more beautiful after installation.
9).Outputting oil tank external design,slow down the rate of carbonization of fat and avoid accidents.
10).Roundness treatment for edges and corners of packing panels, which can prevent incidental injury accident in maintenance.
11).Double-door design and the smoke is removable, which are convenient for maintenance. 
12).Professional and beautiful industrial stainless steel packaging design.
13).Independent research and development PLC control board, matching ability is strong.10-inch touch screen,easy, safe and reliable operation; Burner can automatically ignite, flameout, switch small fire and big fire;Exceed 20% configuration for burner, ensures enough output, reduce equipment fatigue and extend equipment life;  high and low pressure protection;  leakage protection.
14).High quality raw material supply---China famous big steel plant provide the raw material.
15).60 years boiler factory, mature technical and production team , which ensures the quality mature and stable.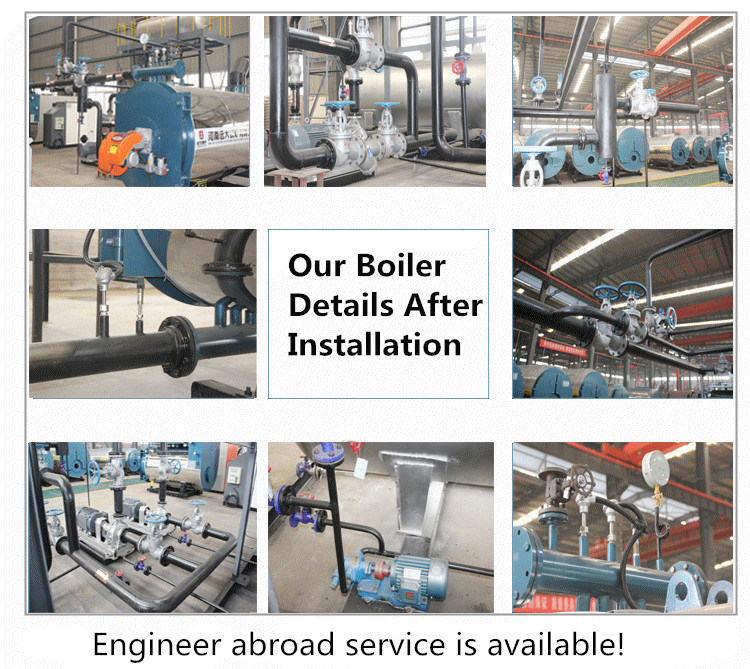 III.Boiler details
Product name
YY(Q)W low pressure single drum horizontal structure gas /oil fired thermal oil/ thermic oil/ hot oil/ thermal fluid oil boilers/ furnaces/ heaters
 
Product description

Powered by circulation pumps, heating as medium, organic heat transfer oil flow out from boiler into equipments which need heat energy, transferring heat energy, and then flow back to boiler proper. The organic thermal oil flow through the whole system and transfer heating energy to heat the equipment.

Gas/oil light by burner, the flame and high temperature exhausted gas flow through boiler proper and heat the system. 

 
Title
design for gas & oil fuels industrial thermal oil boiler/ heater 350-4200kW capacity 
 
Model
YY(Q)W
 
Rated thermal power
350kW to 14000kw(300.000kcal to 12,000,000kcal)
 
Rated working pressure
8Bar
 
Max. working temperature
280°c or 320°c
 
Design fuels

gas & oil

natural gas, LPG (Liquefied Petroleum Gas, Liquid Propane Gas), LNG (Liquefied Natural Gas), CNG (Compressed Natural Gas), city gas, coal gas, biogas, waste gas, etc.

Diesel, light oil, heavy oil, waste oil, furnace oil, HFO oil, mazut, stove oil, residual oil, kerosene, crude oil, continental oil, continental crude oil,etc.

 
Features

1.Low pressure but high temperature, safe, high efficiency and saving energy.

2.Thermal fluid oil runs in the whole working system, without contacting with airs, no emissions, no pollution, less heat loss, long working life, saving fuels and low running cost.

3.It can meet the requirement of different machines which needs various temperature in different processing manufacture.

 
Appllication

1.Chemical Industry --polymerization industry, oil industry, reaction tank, distillation, enrichment

2.Plastic industry ---plastic and squeeze to finalize the design

3.Textile industry -- resin stenters, dyeing machine and the dry room, high temperature machine, roller.

4. Rubber industry - rubber vulcanization heating

5. Food industry -- cooking dry, vegetable oil refining

6. Wood industry -- heating to finalize the design of chipboard sandwich plate, warm up board, fiber

7. Paper industry-multi-layer cardboard of packed carton box, dying and desiccation

8. Others-heating of metal electroplating slot, coating condensation, drying, distillation of pharmaceutical industry, reduction, concentration, dehydration, airconditioning industry, etc.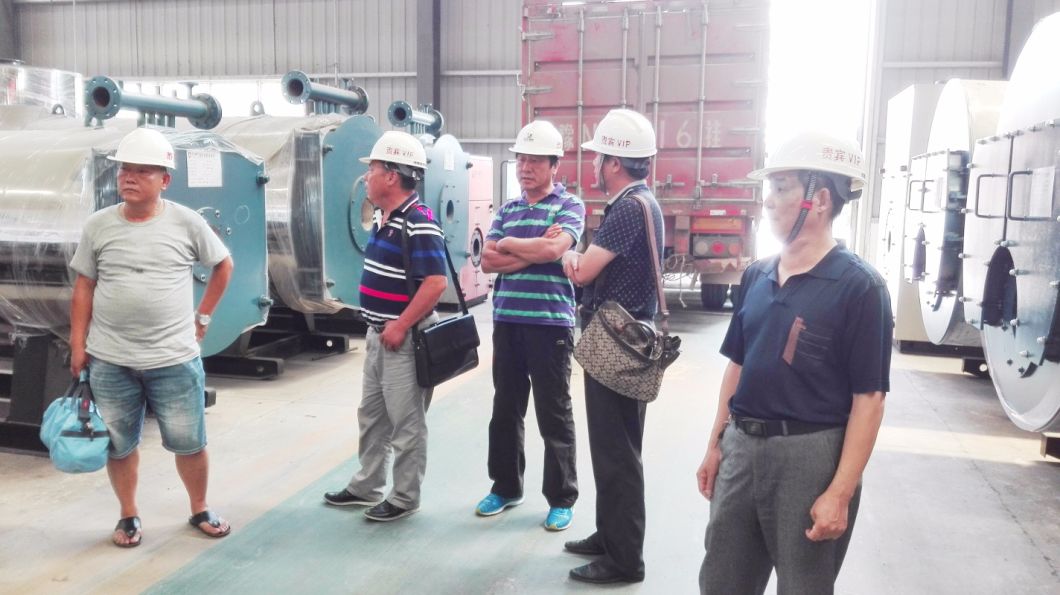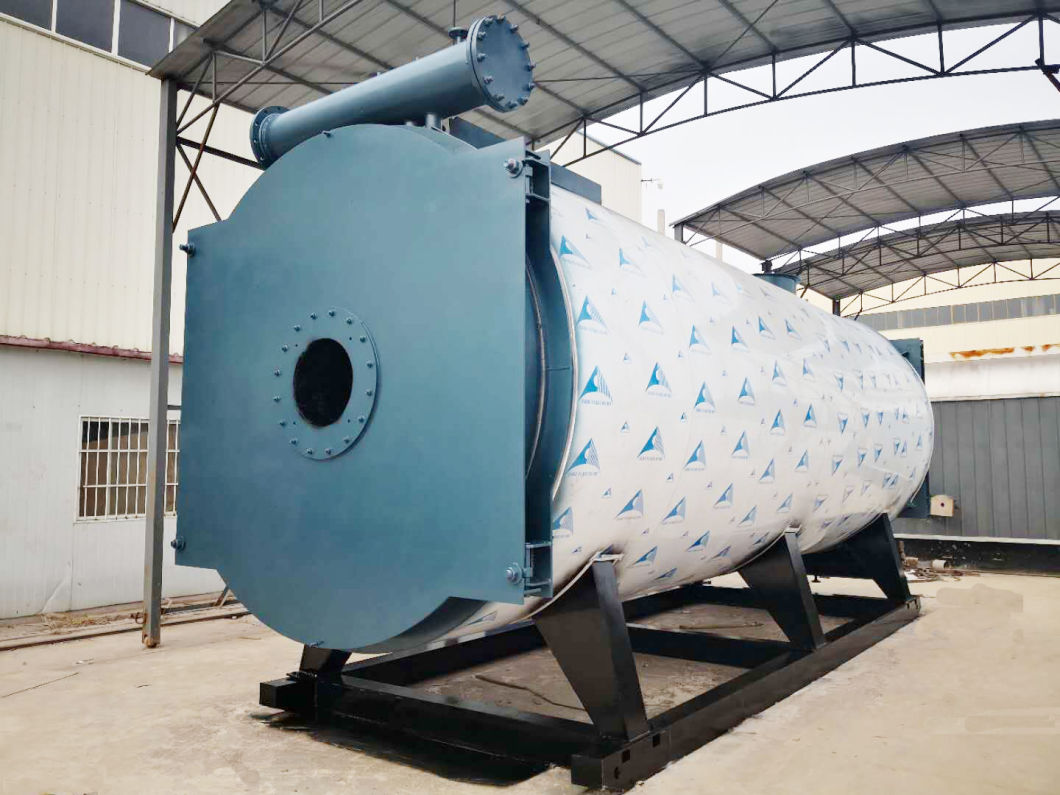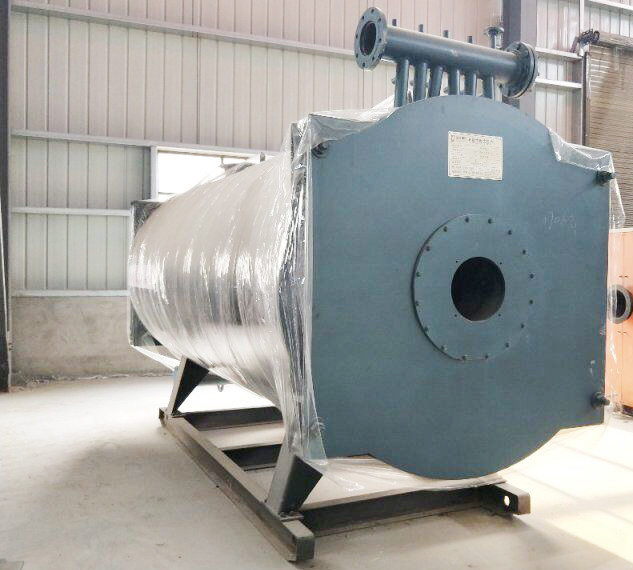 IV.Technical datasheet(For limited place, the following is only part of datasheet. If need more, pls contact us for details)
Model
   

YY(Q)W-
350Y(Q)

YY(Q)W-
700Y(Q)

YY(Q)W-
1400Y(Q)

YY(Q)W-
2100Y(Q)

YY(Q)W-3000Y(Q)

YY(Q)W-
3500Y(Q)

YY(Q)W-
4200Y(Q)

YY(Q)W-5600Y(Q)
YY(Q)W-7000Y(Q)
Capacity
KW
 350
 700
 1400
2100
 3000
 3500
 4200
5600
7000
Rated working pressure
 Mpa  
                                                       0.8
Heat carrier output/inlet temperature
 ºC
                                              280/250;  320/290

Design

thermal effiency

  %
                                                      >96

Fuel con

sump.

Natural gas
Nm3/h
42.13
84.26
169.11
259.6
369.57
431.92
516.38
676.5
830.73
Diesel
kg/h
34.5
69.1
138.78
212.52
302.39
353.31
422.57
560.24
673.82
Size
Meter

  3000

*1000

*2000 

  3200

*1300

*2050

  3710

*1524

*2150

  5600

*2400

*3170

  5600

*2400

*3170

  5900

*2382

*3560

  6630

*3200

*3050

  7200

*3550

*3920

  8090

*3675

*4000

Weight
Ton
 2.0
 3.0
 4.0
 6
 10
10.2
 16.5
23.6
28
V.Typical projects: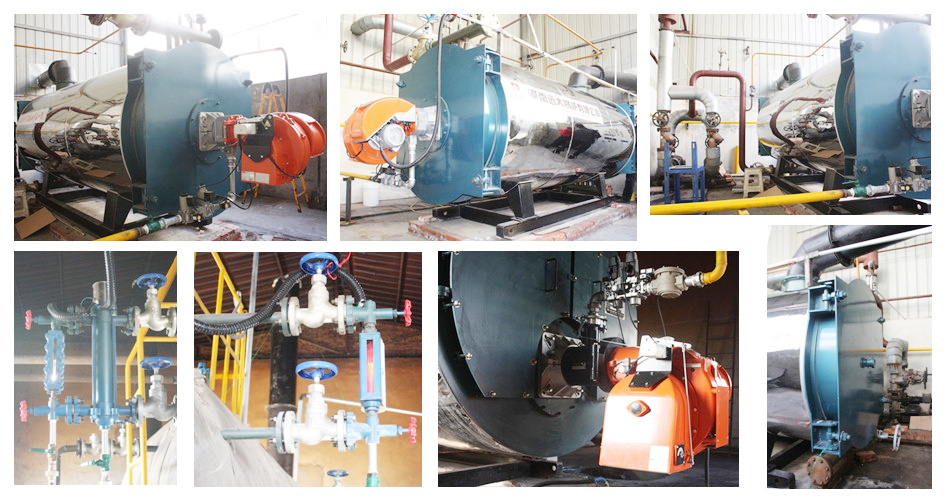 VI.Packaging & Shipping
Yuanda Boiler Packaging & Shipping, Trade Terms:
1. Way of delivery: by Sea or Railway or truck based on needs
2. Shipping model: by normal container and flat rack or bulk cargo based on goods, we can suggest the container
3. Customers specifying freight forwarders or we send bottom shipping price from our forwarder partner for your reference, negotiable shipping methods
4. Packing: nude for boiler main part in nude, accessories in export-use wooden box
5. Payment Terms: T/T, LC; 30% deposits; 70% balance before delivery.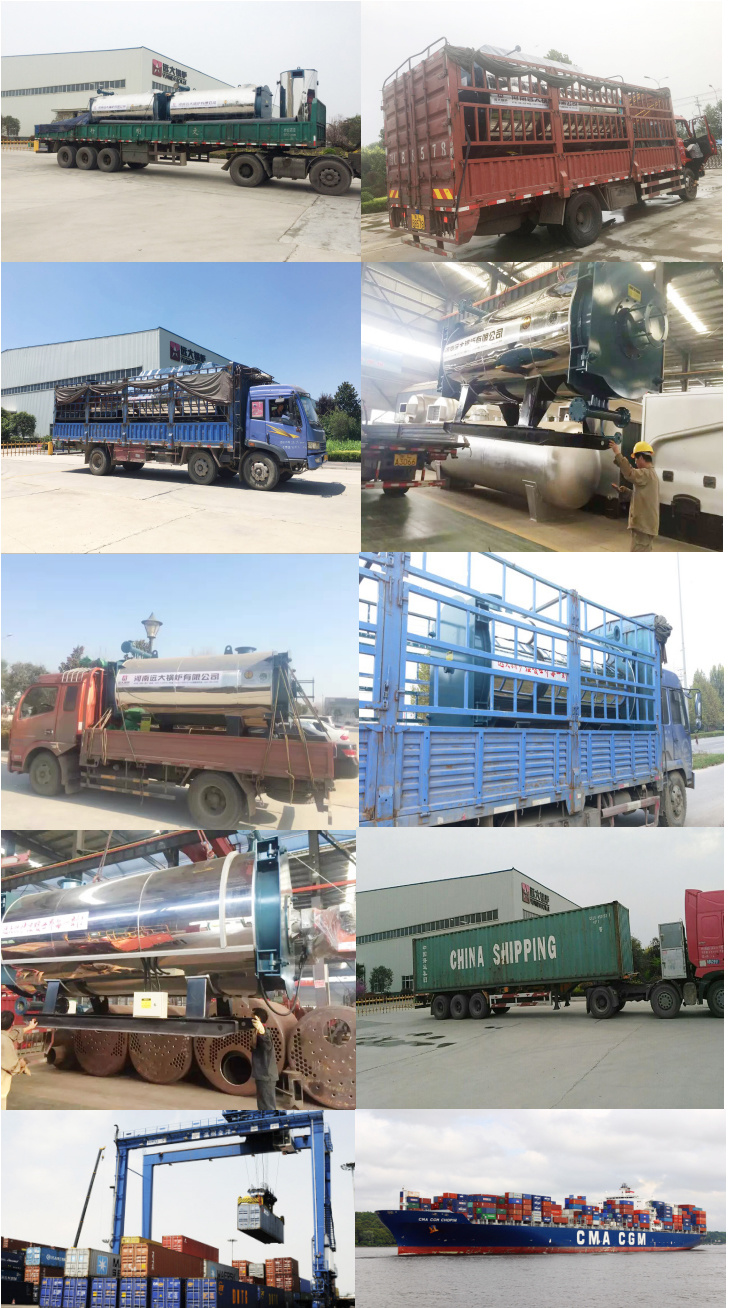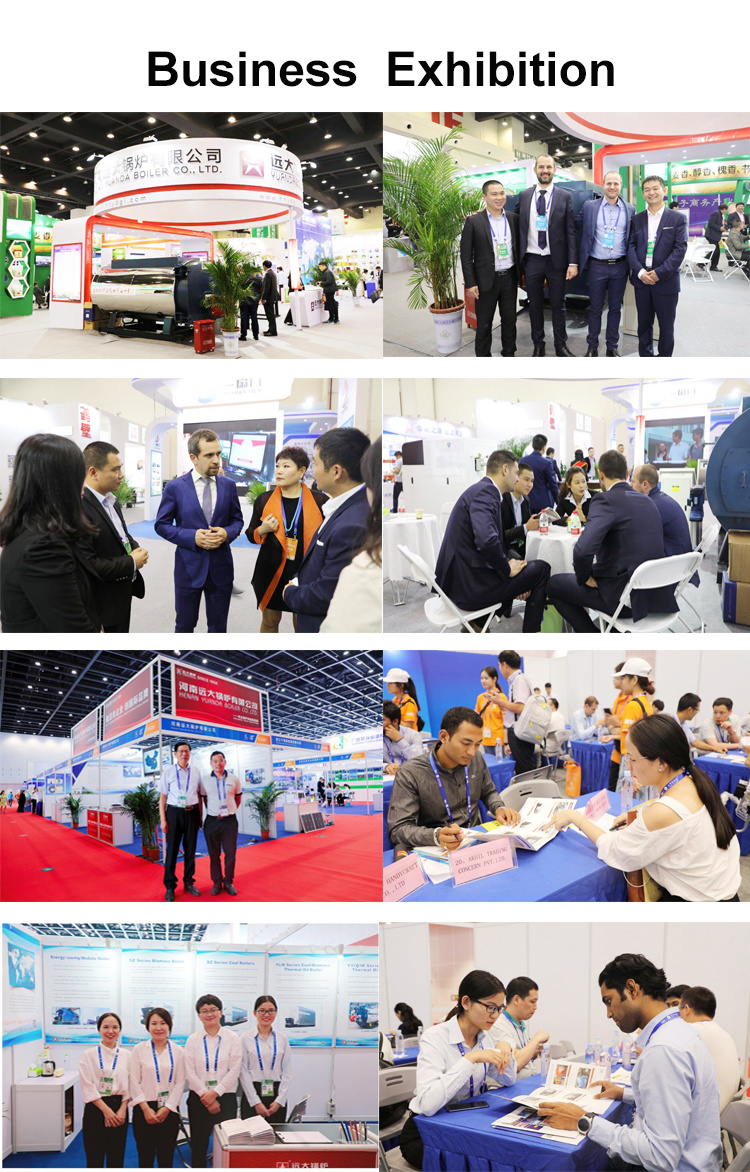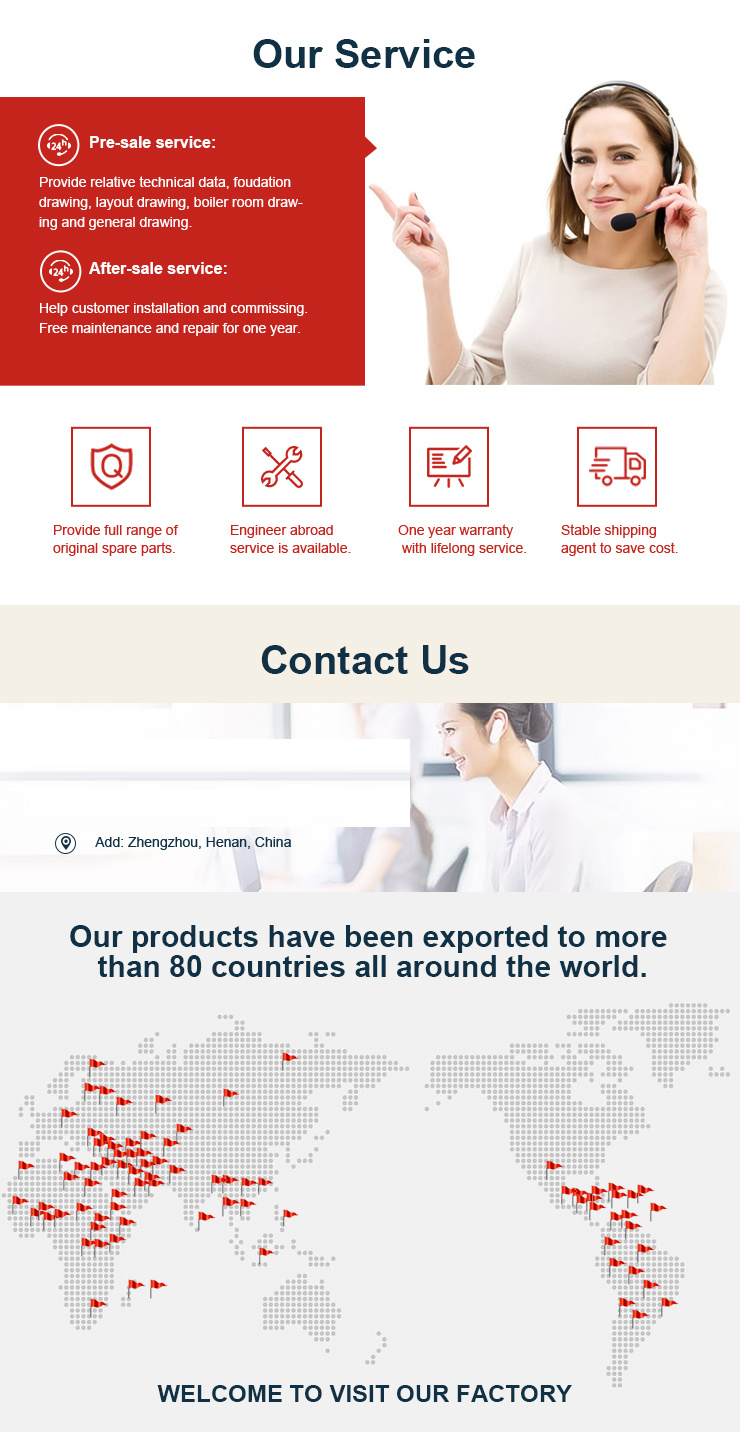 Henan Yuanda Boiler Co., Ltd.
Henan Yuanda Boiler Co,.Ltd,located in Xihua Country,Henan Province,is the leading industrial boiler manufacturer in China.Founded in 1956,we are one of the leading enterprises which firstly obtained boiler manufacturing license in china.
We have our own R&D team and cooperate with famous high-tech research institutes,such as Beijing "Zhiguang"boiler institute,Harbin Institute of Technology and Xi'an Jiaotong University,which ensures our product in the forefront of technology.Till now,we have got more than 10 boiler patents.
With more than 60 years' experience in boiler design,production,installation and operation,Yuanda Boiler has formed an annual production capacity of 5000 tons of industrial boilers and 6000 tons of various of pressure vessels.The products of Yuanda Boiler have covered China and exported to more than 80 countries in the world.
We have been dedicated to providing safe,energy saving and environmental friendly products to our customers.
Yuanda Boiler welcome you to visit our factory!
Company Name: Henan Yuanda Boiler Co., Ltd.
Representative: Guoqiang Zhao
Product/Service: Industrial Boiler , Steam Boiler , Hot Water Boiler , Thermal Oil Boiler , Coal Biomass Boiler , Gas Oil Boiler
Capital (Million US $): 51,800,000RMB
Year Established: 1956
Total Annual Sales Volume (Million US $): US$50 Million - US$100 Million
Export Percentage: 81% - 90%
Total Annual Purchase Volume (Million US $): US$50 Million - US$100 Million
No. of Production Lines: 6
No. of R&D Staff: 11 -20 People
No. of QC Staff: 5 -10 People
OEM Services Provided: yes
Factory Size (Sq.meters): 5,000-10,000 square meters
Factory Location: Ganxiao Road (Gongye 4 Road), Xi Industrial Park, Xihua County, Zhoukou City, Henan Province, China
Contact Person: Ms. Luna Wang
Tel: 86-0371-60137716